Key takeaways.
What are our favourite recipes for Halloween?

THC-infused spiced pumpkin latte, cannabis halloween finger biscuits, and cannabis eyeball cake pops!

Recommended products to get cooking?

Try the 1:1 500mg Halley's Comet Tincture or the THC Cara-melts in your Halloween cannabis cooking adventure.
In a year like 2020, it's almost possible to forget that the festive season is beginning. But there's never been a better year to celebrate than this one as the globe begins to emerge out of the murky waters that 2020 has been. Rightly appropriate, the next big holiday is Halloween which puts a colourful spin on all the things that scare us.
Your Halloween party can be that much more fun if you've got some delicious cannabis-infused Halloween treats to share with your friends. It'll be like trick or treating, except the only trick will be having to prevent yourself from eating too many!
If you wanted to make trick or treating really fun, you could mix up your cannabis treats with your non-cannabis treats and let the eating be an adventure. But we don't recommend that unless you're having a party full of very seasoned cannabis users. Not knowing how much you're taking or whether or not your treat has cannabis in it would be extremely overwhelming for someone who had never used cannabis before.
In either case, keep your Halloween party friendly and fun this year with some of the recipes we've compiled for delicious, cannabis-infused, Halloween-themed tasties.
THC-infused pumpkin spice latte.
There will never be a more festive or more warming way to start a cold Halloween's day. While the kids are getting their outfits on ready for trick or treating, someone definitely needs to be in the kitchen preparing a THC-infused pumpkin spice latte.
This recipe makes two pumpkin spice lattes. We recommend using a THC-rich cannabis oil such as our 500mg THC tincture or if you like a little CBD with your THC, you can also use our 1:1 500mg Halley's Comet tincture (contains equal parts of THC and CBD). Alternatively, you could decarboxylate your favourite hash and then powder it and put it in the latte, but that's a lot more work.
For this recipe, you'll need:
If you're using either of the 500mg tinctures mentioned above, we recommend using 2-4 ml (with 2ml, there will be 25mg cannabinoids in each latte, with 4ml, there will be 50mg cannabinoids in each latte). Otherwise, use your preferred dose of tincture
2 cups of milk (your preference whether it's dairy or non-dairy)
2 tablespoons pumpkin puree
1-3 tablespoons of sugar or another sweetener of your choice, depending on your preference for sweetness
1 tablespoon vanilla essence
½ tablespoon pumpkin pie spice, plus a little more for garnish
½ cup hot coffee
Whipped cream to serve (optional)
The method:
Add the milk, pumpkin puree and sugar to a small saucepan over medium heat. Make it hot but be sure not to boil.
Remove from the saucepan and whisk in the coffee, pumpkin spice, and vanilla essence.
Add the cannabinoid tincture.
Add whipped cream and extra pumpkin spice if your taste buds desire.
Creepy cannabis Halloween finger biscuits.
Okay — the pumpkin spice latte is very PG rated. If you want something a little more creepy to put out at the party, we highly recommend these Halloween Finger Biscuits by Cheri Sicard. Aesthetically, they definitely fit the bill for Halloween, and they're also full of your favourite strain of cannabis, so that's also fun!
This recipe requires you to do some cannabis processing in your kitchen. Your favourite buds need to be decarboxylated and then turned into cannabutter if you want to include them in this recipe. We have a detailed guide on cannabis decarboxylation to help you with that part of the process (don't worry, it's much easier than it sounds).
For this recipe, you need ½ cup of cannabutter. We recommend infusing ½ ounce into 1 cup or 1 ounce into 2 cups of butter so that you have some to use next time! Then, you simply need to use ½ cup of your final cannabutter in this recipe. To make cannabutter, put your decarboxylated cannabis in the butter and allow it to simmer in a double boiler or in a magic butter machine for at least 6 hours. Don't let the butter boil.
This recipe uses ¼ ounce of cannabis to ½ cup of butter. IF you want to make more cannabutter to keep for the future, you can put a whole ounce into 2 cups of butter and store the unused cup in the freezer. If you use this method, each of your biscuits should contain ~20mg THC.
For this recipe, you'll need:
1 teaspoon red and/or green food colouring
30 whole blanched almonds
2 large eggs
1 teaspoon almond extract
½ cup cannabutter
½ cup powdered sugar
½ cup granulated sugar
⅛ teaspoon salt
1 ⅓ cup all purpose flour
1-2 tablespoons Nutella or your favourite choc-hazelnut spread
The method:
First, preheat the oven to 180℃ (350℉). Prepare two large baking trays with either baking paper or grease them.
Place food coloring in a small bowl. Use a paintbrush to color one side of each almond. Set aside to dry.
Separate 1 egg, set white aside. In a small bowl, whisk together one whole egg plus the egg yolk you just separated. Whisk in the almond extract. Set aside.
Using an electric mixer, beat together cannabutter, granulated sugar and powdered sugars until they are fluffy.
Beat the egg mixture into the cannabutter/sugar mixture.
Mix in salt and flour until just combined. The dough will be soft. Dive two into two pieces, place each dough on a piece of plastic wrap, flatten into a disc, wrap and chill for 20 to 30 minutes.
Divide each dough into 15 pieces. Roll each into a finger shape – makes these thinner than you think you need them to be as the dough will expand when baking. Pinch dough in two places to form the knuckles and score each knuckle lightly with a knife. Place on prepared baking sheets.
Brush cookies lightly with the separated egg white. Press an almond "fingernail" into the end of each cookie.
Bake for about 12 minutes or until lightly browned.
If the almonds fall off the finger, use nutella to stick them back on. You can also use nutella and spread them over the biscuits to give them a "dirty" and "creepy" look.
If you're feeling creative, apply some of the leftover red food colouring to the bottom of the finger, giving it the effect that it's just been cut off.
The easiest, creepiest, cannabis eyeball cake pops.
This is another easy, creepy recipe that you can use to decorate the table at your Halloween party. Weird eyeballs sticking out of a pumpkin? Sounds perfectly appropriate for Halloween. These guys are super easy to make — absolutely no baking required.
There are a couple of ways you can add cannabis to this recipe, depending on the flavours you like:
This recipe will show you how to make these cannabis eyeball cake pops with either of the two products listed above. This recipe makes 10 cake pops.
For this recipe, you'll need:
1 bag THC Cara-Melts for 8mg THC per cake pop, 2 bags THC Cara-Melts for 16mg THC per cake pop. If you're using the tincture, you'll need 5 ml to get 12.5mg THC per cake pop.
100g Madeira cake
100g oreo cookies
80g of milk chocolate, melted (if using THC Cara-Melts), or 100g milk chocolate, melted (if using THC tincture)
200g white chocolate, melted
A few smarties (you'll use these to create eyes)
Icing pens for decoration
Wooden skewers to use as the stick, and a small butternut pumpkin cut in half to use as the serving suggestion.
The method:
Break the Madeira cake and the Oreo cookies into small pieces into the bowl of a food processor.
Over the stove, using a double boiler method (please don't do this in the microwave as chocolate burns easily in the microwave), begin to gently melt the milk chocolate.
This is where you add your cannabis product. If you're using the THC Cara-Melts, add them to the chocolate as it's melting and allow them to melt with the chocolate. If you're using the tincture, add it once the chocolate has melted and is removed from the stove. Mix well.
Pour the melted chocolate into your food processor along with the Madeira cake and Oreo cookies. Whizz until it's combined.
Tip the mixture into a bowl. You should have something like a dough that you can roll up into walnut-sized balls. After rolling them up, chill them for at least 2 hours or until they are pretty firm.
After chilling, push a skewer into each cake ball.
Using a double boiler method, melt the white chocolate.
Using a spoon or simply by dipping the balls in the chocolate, cover each ball in chocolate and then stick it into the butternut pumpkin so that it can stand up.
While wet, add a smartie to each cake pop. Chill again until the white chocolate has hardened.
Using the icing pens, add a pupil to the smartie and create squiggly red lines to give the effect of an eyeball.
Have a cannabis friendly Halloween!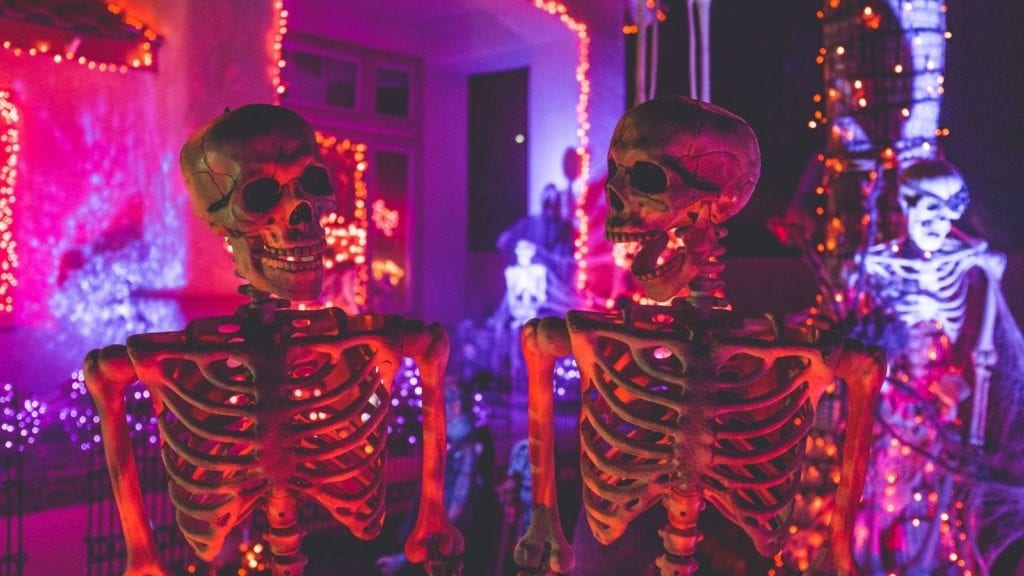 We hope you enjoyed these awesome cannabis-friendly Halloween recipe ideas. They really are the perfect way to start and end a fun-filled Halloween with friends. To all the cannabis connoisseurs out there — please be mindful not to leave these delicious sweet treats lying around children. They look delicious, they are delicious, and a child could easily eat one not knowing that it is definitely not for them. On that note, make sure your pets don't get to them either.
Keep the fun friendly and sensible by keeping our furry companions and our little people in mind. Other than that — grown ups can have fun too!
Did you try any of our cannabis-infused Halloween recipes? Were they a hit at your party? We'd love to hear from you in the comments!