Psychedelic-Assisted Therapy (PAT) Fund.
If you're looking for financial aid for psychedelic therapy, you've come to the right place.

My Supply Co.'s mission is to become the largest community in mindful healing, growth, and optimization. To specialize in supplements and medicines that are inspired by nature, informed by tradition, and backed by science with the goal of safely supporting, educating, and improving the lives of 1 million people by 2025.

In 2023, we took action towards this vision of a just future by launching our PAT Fund, championing open access to these medicines and cognitive liberty for all, as it defines our humanity. Today, the PAT Fund is helping Canadians experiencing financial limitations get access to the medicines that can help them find their version of success—from combatting depression and anxiety to healing from trauma.

If you want to live in an expanded state and share that with the world, we're here to help. Read on to learn how you can qualify for the PAT Fund.
Social Impact.
PAT Funds. Two funds. One core issue each. Infinite solutions to the challenges facing our one planet and the human family.
To The People Fund
When resources are strained, women, BIPOC, and lower-income individuals face disproportionate consequences. The ongoing COVID-19 crisis has widened global inequality and worsened human rights conditions for millions in Canada and around the world.

We support low-income individuals with 20% off our medicines, and prioritize empowering women and BIPOC communities in their access to clean, quality medicine with 25% off our medicines in our effort to dismantle systems of discrimination in access.
To The Future Fund
Young people are the future. As it stands, the world they're inheriting isn't just, for all. Women, black folks, indigenous people, and people of colour are not equally represented among decision-makers and leaders.

We donate medicines and 20% – 25% of each sale generated through our "To The People Fund" to hopeful and innovative PAT initiatives that dare to build a peaceful and equitable future, driven by the efforts and ideas of those historically excluded and marginalized.
FAQs.
Still have questions? Start a conversation via the chat widget.
Canadian Psychedelic Therapy Directory.
A comprehensive + up-to-date directory of PAT clinics, sorted by city. Plus FAQs, resources, and more.
Trusted Psychedelic Therapists.
A shortlist of Psychedelic-Assisted Therapists in Canada to help you navigate your psilocybin journey for root-cause healing, growth, and transformation.
Not ready to jump in yet? Stay in touch.
Share your email address to receive your copy of Mastering Depression FREE.

Backed by over 240 scientific studies, Mastering Depression is a simple guide to a better mood, more energy, more focus, and less stress, naturally and safely.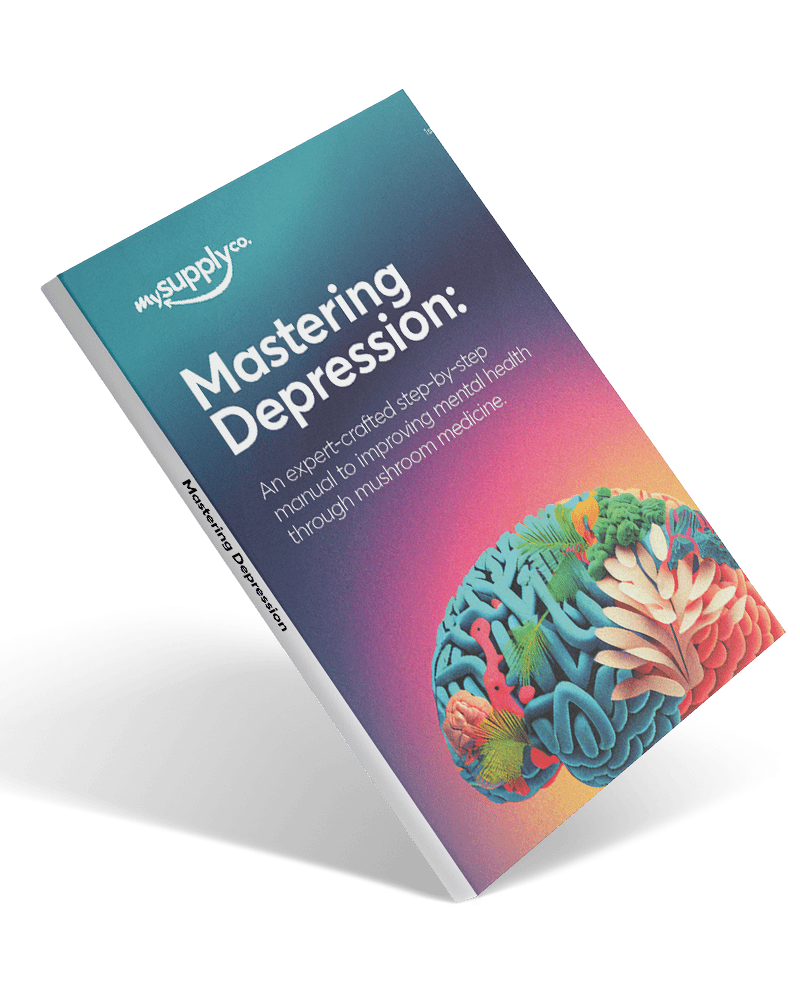 PAT Fund Privacy Policy.
1. Introduction
We at My Supply Co. are committed to protecting your privacy. This Privacy Policy outlines how we collect, use, and safeguard your information.
2. Personal Information We Collect
We collect personal information that you voluntarily provide to us when you apply for the My Supply Co. PAT Fund. The personal information that we collect depends on the context of your interactions with us and the choices you make.
3. How We Use Your Information
We use the information we collect or receive:
To evaluate your application for financial aid.
To send you related information, including confirmations, updates, and support.
4. How We Share Your Information
If you are requesting a referral to a psychedelic therapist, we provide them with the information you shared, which would be the same information you would be providing them, to help accelerate the referral and onboarding process.

Otherwise, we don't, and we won't.
5. How We Keep Your Information Safe
We have implemented appropriate technical and organizational security measures designed to protect the security of any personal information we process.
6. Your Privacy Rights
You have certain rights under applicable data protection laws. These may include the right to request access and obtain a copy of your personal information, request rectification or erasure; object to the processing of your personal data; or seek restriction of processing of your personal data.
7. Updates To This Policy
We may update this policy from time to time. The updated version will be indicated by an updated "Revised" date and the updated version will be effective as soon as it is accessible.
8. Contact Us
If you have questions or comments about this policy, email us at [email protected] or message us via the chat widget.